PLMA's 2019 Private Label Trade Show is next week, and we're counting down the final days sharing valuable insights to remember when you visit us at booth #F1327. This week we are sharing our signature collection of authentic Italian gelato and sorbet for retail/private label that will be showcased at this year's PLMA show!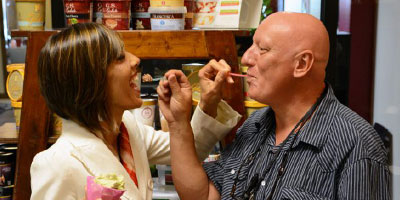 Guido Tremolini and Simona Faroni moved from Italy to the United States almost twenty-five years ago to introduce the country to authentic gelato and sorbetto and to achieve the American dream. Both goals would seem unattainable to most, but with their love for each other and passion for their product, they knew one day they would make their mark on the ice cream industry.
They imported equipment from Italy needed to produce an authentic product only to find out that it was not authorized in the United States. Devastated, they had to decide whether to give up or persevere. They decided to push forward, working tirelessly by day getting the equipment up to code while taking English classes by night, as they arrived in the states without knowing a word of English! After fourteen strenuous months, their equipment was approved, and G.S. Gelato became the first manufacturer in the United States with approval from both the FDA and USDA to produce authentic, artisanal gelato and sorbetto for wholesale distribution.
Fast-forward to today, G.S. Gelato has been named the most authentic Italian gelato and sorbet in the country by USA Today, earned a spot on the Inc. 5000 list of Fastest Growing Private Companies three years in a row, and has become the nation's leading manufacturer of gelato, sorbetto, and plant-based frozen desserts for the foodservice and retail/grocery industries with branded and private label products.
And what started it all? Gelato and sorbet!

In Italy, it's nearly impossible to walk the streets without passing by a gelateria. When Guido and Simona visted Florida for the first time, they were astonished that they could not find gelato anywhere! Gelato and sorbet are an age-old tradition dating back thousands of years – proof that despite the changes and trends in the ice cream and novelty frozen dessert industry, gelato and sorbet will be around for the long haul.
Gelato, Italian for "ice cream", is similar to American ice cream but different in many ways. First, gelato is made with milk instead of cream. It contains less air than ice cream, making it more dense and giving it a smooth and velvety texture. Gelato is served at a warmer temperature and the flavors are much more intense! Gelato is a premium product, which consumers with more disposable income and more adventurous palates are seeking!
Sorbet ("sorbetto" in Italian) is made with fruit, water, and sugar – with no dairy products such as milk or cream. The texture of authentic sorbetto should also be smooth and velvety, not icy. Sorbet is often confused with sherbert or italian ice, but all are very different! G.S. Gelato's sorbetto is often mistaken for a dairy product for its silky, creamy consistency, however it is 100% dairy free, gluten free, and fat free!
At G.S. Gelato, we take great pride in creating tailor-made programs for our customers, from innovative packaging to unique flavors and formulations. We select only the finest ingredients from around the world to craft an exceptional product for private label brands. All of our products are Kosher Certified and made with clean label ingredients. With 90% of households indulging in the ice cream category and 54% consuming frozen novelties, it is clear that consumers are devoted to these timeless indulgences!
AUTHENTIC ITALIAN GELATO & SORBET AT PLMA 2019!
We are excited to share indulgent flavors of our signature gelato and sorbetto, as well as Certified Vegan Plant-Based Frozen Desserts and alcohol-infused "Frose"! Visit us at booth #F1327 and email msidley@gsgelato.com if you'd like to set up a personal appointment at the show!